The Nixon burner bazaar, formally known as "The Largest Burner Bazaar," is a temporary "pop-up" outdoor marketplace aimed at attendees of the Burning Man festival.
In 2023, the market is scheduled to take place August 21 – 29.
Address
The burner bazaar will be located at 50 NV-447, Nixon, NV 89424, about an hour south of the playa. This is the address of Nixon Store, a fireworks and convenience store, situated on a corner off of Nevada state route 447, the road that the majority of burners take to get to the playa. The market is on Indian land, and vendors must secure a temporary business license from the Pyramid Lake Tribe.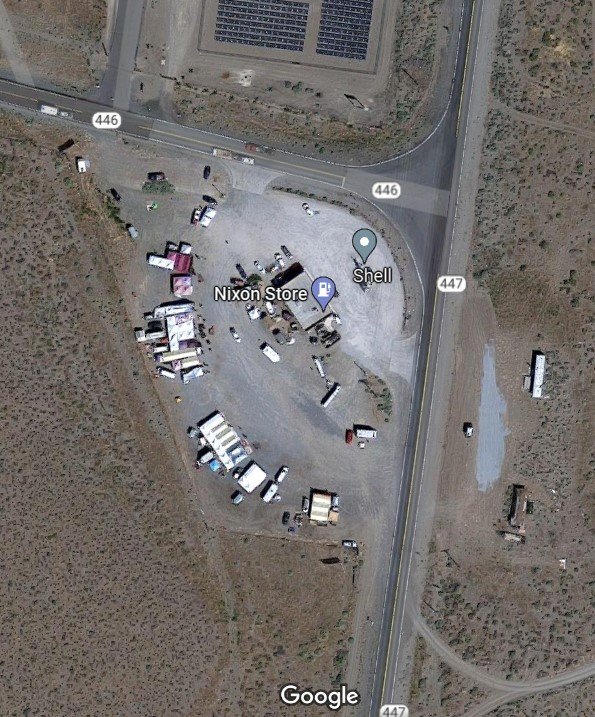 The dates will allow vendors to attend most of the Burning Man festival. The festival runs from August 27th – September 4th.
The bazaar offers food, showers, ice, toilets, gas and plenty of parking, in addition to 15 – 20 vendor booths selling some of the most popular and cutting-edge fashions in the burner community.
Vendors
In 2022, the featured designers are:
Anahata Designs / Infiniti Now
Due to the cancelation, the following vendors seemed to have dropped off:
Buddhaful
Freeborn Designs
Liquid Dreams
Warrior Within
Wish Wear
Biciarte
Boholounge Clothing
Alternatives
Other bazaars that you might want to check out are the smaller set-ups in Wadsworth and Empire, as well as the brick-and-mortar "Burner Bazaar and Beyond" in Gerlach. You will likely find lots of vendors scattered all along route 447.
---