Here are some cool opportunities I've had throughout the years to leave my mark on the world – but especially in TV, movies, magazines & music. How many do you know about?
The Killers: Mad Max Photo Shoot & Video for "Space Man"
A year after moving to Los Angeles, a stylist contacted me wanting to rent a few post-apocalyptic clothing accessories for a photo shoot with the Killers for Q Magazine.
It was not only exciting to be renting out some of my collection, but also to have my items worn by The Killers. (I really liked their first album, Hot Fuss, but gradually lost interest after they changed their sound.)
The stylist dressed singer Brandon Flowers in my very accurate replica Mad Max shoulder pads, only she put them on backwards purposefully.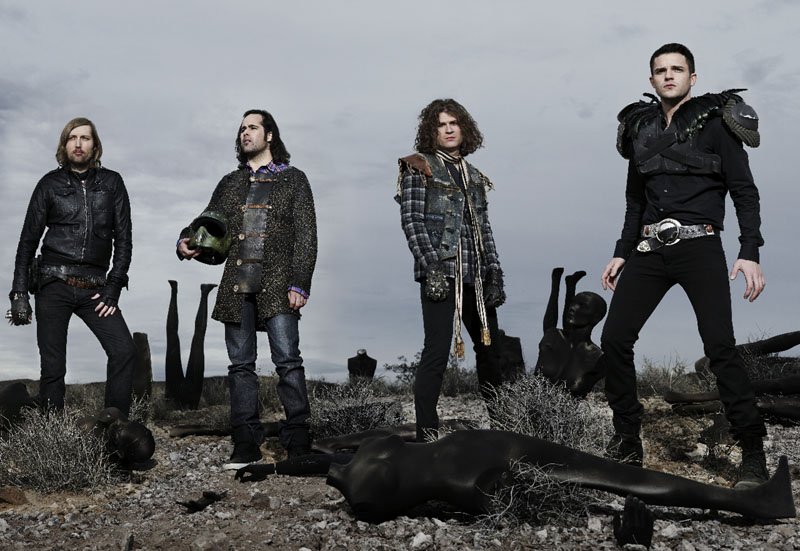 It turned out that the mannequins in the photo shoot were borrowed from my friend
Tony Swatton, who is Hollywood's go-to blacksmith.
The shoulder pads had black rooster tail feathers on them & it just so happened that Brandon Flowers loved putting feathers on his shoulders at that time, so he fell in love with them.
After the shoot, I was encouraged to reach out to his agent & negotiate a sale of the shoulder pads to Brandon. I did, and Brandon ended up not only buying them, but also featuring them in the video for Spaceman. Here you can see them covered in red fabric.
Cultural Training Videos for the Army & Air Force
Soon after the photo shoot, I got my first film industry gig working as an extra for a Middle-Eastern casting company. I stumbled onto the opportunity on Craigslist.
I played an Iraqi man & dressed myself for the role. The director,
Jared Chandler, was so impressed that he announced to the wardrobe supervisor that he did a great job dressing me, which the supervisor responded with, "He showed up that way!" (That's me in the teal suit, holding the beads.)
As a US Air Force veteran, I applied to work with the production company directly and soon found myself working on more projects as not only an extra, but also as a wardrobe assistant & set painter, painting murals & signs for the film sets.
We shot a number of training videos to help US troops learn about the culture in Iraq, Afghanistan, as well as Somalia. It was a lot of fun, but unfortunately it was not very regular work.
Here's me dressed as an Afghan National Army soldier with actor Navid Negahban, known for his roles in Homeland, 12 Strong, Aladdin, Charlie Wilson's War and The Cleaning Lady.
Wasteland Weekend
In between shoot dates for the training videos, I started working on organizing what would eventually become the world's largest post-apocalyptic festival, also known to many as the Mad Max Burning Man.
I had run & helped run a few smaller events since 2004. Having been a huge Mad Max fan since I was 15, this festival was truly a labor of love.
I ran the festival for 5 years and stepped down to focus on my clothing business in 2015. This was just before Mad Max: Fury Road rebooted the franchise.
The festival has gotten a lot of media coverage over the years and is truly world famous. I'm very proud of what I helped start and I continue to attend as a vendor.
Wolfenstein – Liberation of London
In 2014, my friend Kai Norman from
Yokai Props contacted me for help with a live action trailer for Wolfenstein: Liberation of London.
He needed several airsoft tactical vests reconstructed to look more like the concept art. I took them apart and got to work.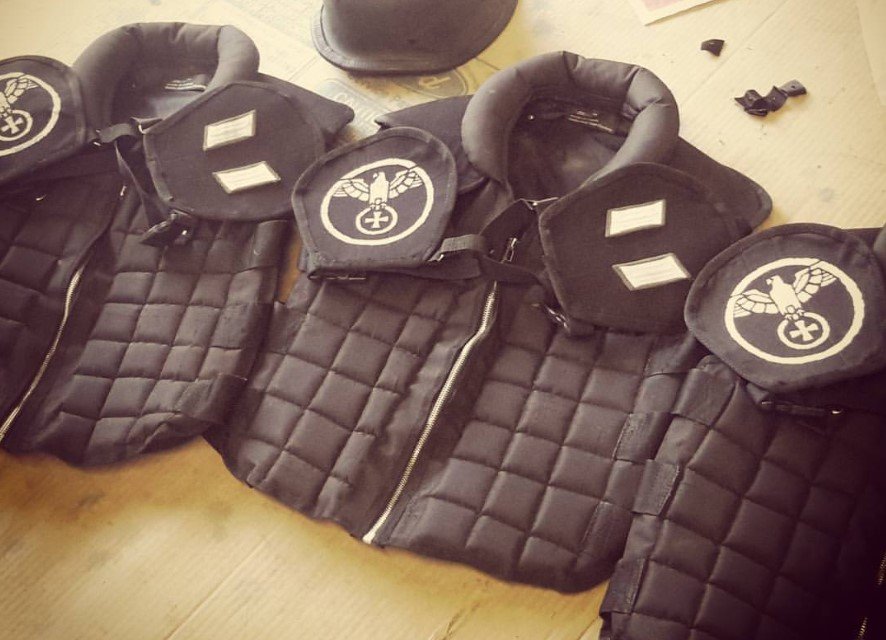 I got zippers & East German collar tabs in Los Angeles, and worked with a car upholstery shop to insert foam into them & sew them back together.
I created a stencil and hand painted an insignia on the shoulder pieces.
Alita: Battle Angel
My friend Tod Waters of Junker Designs works often with Nina Proctor on movies directed by Robert Rodriguez. Tod spends most of his time at Troublemaker Studios in Austin, Texas ageing, dyeing & distressing costumes, as well as providing some of the wardrobe.
Tod's jackets got a lot of screen time in Alita: Battle Angel & he actually played a small role in it as well.
Hugo, Anita's love interest in the movie, played by Keaan Johnson, wears one of Junker Designs' iconic jackets throughout the film.
In one night scene, Hugo dons a different jacket as he is scavenging cyborg parts. On the back of this jacket, you can see 3 sets of clips that Tod got from me. These are the same clips I use on my Fraktur jackets & Atomic Slug backpacks.
Egyptian Lover
Thanks to a mutual friend, I was able to help Greg Broussard, also known as the Egyptian Lover, with a shirt for his new video "The World Keeps Turning" featuring Newcleus.
You may remember his 1984 electro hit "Egypy, Egypt." I definitely do, thanks to my friend down the street who had a boombox & loved to break dance.
Army of The Dead
In the Summer of 2019, I got a few orders from Albuquerque for my popular Atomic Slug backpack. I was told they'd be used for a zombie film called Army of The Dead.
I made sure to keep track of the movie's progress, and eventually figured out that my backpack was going to be worn by the character Lily the Coyote (played by Nora Arnezeder), who was a zombie killer dressed in punk rock style. Perfect!
After coincidentally moving to New Mexico, I was able to meet a few of the crew members from the film, visit locations, and see the film in the theater.
I even released a very screen-accurate morale patch from the movie, the Las Vengeance patch.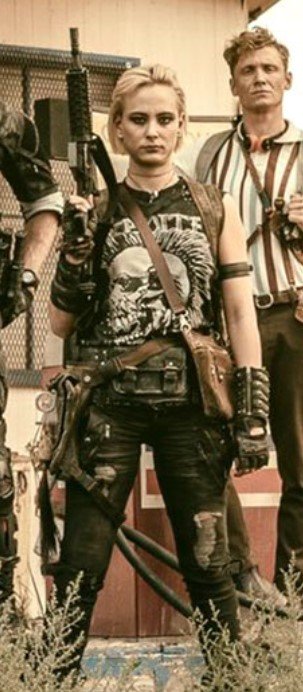 Extra Work
In New Mexico, I started looking for ways to get involved with the local film industry. I started by getting jobs as a background extra.
You can see me in episodes of Outer Range (season 1), The Cleaning Lady (seasons 1 and 2), MacGruber (season 1) and more.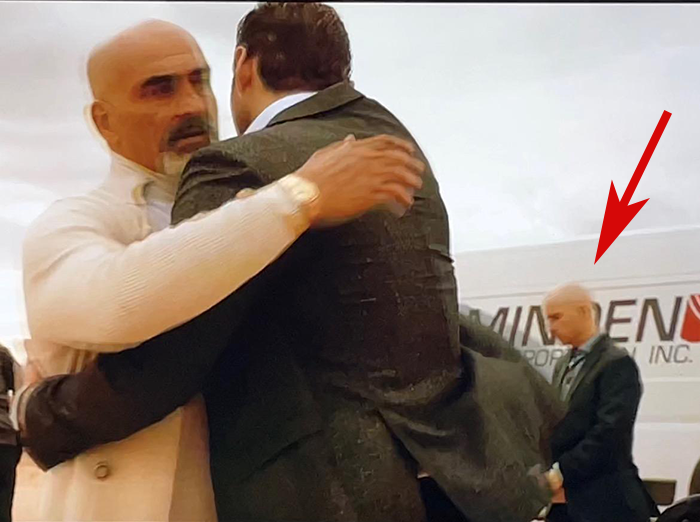 Film & TV Work
When I did start working in the film industry, it came hard and fast! My first show was Stranger Things (season 4), and then Big Sky (season 2). The work eventually slowed down, but I managed to get some time on MacGruber (season 1), Wile E Coyote, and The Cleaning Lady (season 2).
In 2022, I landed a couple gigs working as an ager-dyer, which is also known as a breakdown artist. I got to age and weather costumes, which was one of my dream jobs in the industry! I worked on Poker Face (season 1, episode 2) and a cool little post-apocalyptic Native film called Mary Margaret: Road Grader.