Army of the Dead is a Netflix original movie directed by Zach Snyder. It stars Dave Bautista as Scott Ward.
The plot of film surrounds a group of mercenaries that enters a walled-off Las Vegas (six years after a zombie outbreak) in order to attempt a heist at Bly's Casino.
The release date is May 21st, 2021, in line with Netflix's biggest annual releases. There are also some limited theater screenings starting May 14th. Release was initially supposed to be in Winter 2020-2021, but that was before actor Chris D'Elia was accused of sexually harassing underage girls in June 2020.
On August 14, 2020, Deadline reported that D'Elia will be replaced with Tig Notaro. There will be reshoots on location, as well as with CGI and green screens to make the replacement as seamless as possible.
Prequel & Anime Series
On September 3rd, 2020, Variety reported that a prequel, Army of Thieves, was in the works, as well as an anime series. The film has been finished and was directed and stars Matthias Schweighöfer, who was also the German safe cracker in Army of The Dead. The anime series is said to be 4 hours long and is dubbed "Army of the Dead: Lost Vegas." It tells Bautista's backstory & chronicles the reaction of the crew to the zombie invasion of Las Vegas. Two of the anime episodes will be directed by Snyder.
Lily The Coyote Costume
The mercenaries' costumes include a lot of tactical gear mixed with civilian clothing.
The character played by Nora Arnezeder is Lily, also known as The Coyote. She is a punk rocker who has a lot of civilian bags & pouches (at least in this early promo shot), including my Atomic Slug Deluxe backpack. She wears an Exploited band t-shirt with the sleeves cut off, and ripped-up motorcycle jeans.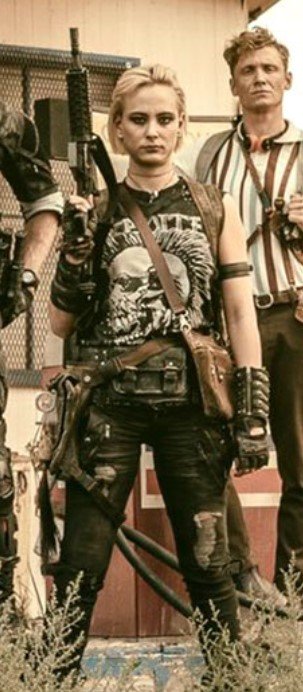 For more info about Army of The Dead, check out AOTD21.com
For Army of the Dead products, click HERE.